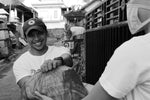 Bali COVID19 economic crisis & how you can help?
Bali holds a special place in all of our hearts and if you've ever been lucky enough to visit the island you would have seen how tourism is an essential part of the local economy. Whilst there is no denying that COVID19 has impacted every single corner of the globe, its impact on Bali, an island that absolutely thrives on tourism, has been disastrous with hundreds of thousands of people now left with no jobs, absolutely no government support and no income to support their families.
On the surface, you initially think of the frontline hospitality workers, including thousands of waiters and hotel staff who are now without employment. But the ripple effect, spreads much wider than this. Without tourism it means the farmers in the North no longer have businesses to supply to, drivers no longer have guests to tour around the island and factory workers no longer have demand for their handmade products. The impact is felt island wide and it's really starting to show.
We have been inundated with messages asking how people can help, or how you can make sure your Balinese friends and families are getting access to the charity support that is currently taking place across the island. Because of this, we have put together a comprehensive list of the places in which you can contribute too, or share with your local friends who are in need of assistance.
Crisis Kitchen is doing an awesome job providing food hampers to those all across the island. With daily deliveries going out to the most remote communities. They have a team of hardworking volunteers building detailed databases to enable them to build long term connections with those in need. If you want to help, you can make a donation here, or let anyone you know who might be in need that they can make contact via the Crisis Kitchen facebook page & request a food hamper. 
Sea Circus is where we first worked together, and this year the bright little Seminyak café should be celebrating its 10th birthday and be bursting at the seams with regular customers. Instead, they've closed their doors to regular customers, and opened them instead to those in need, providing locals lunch for free everyday between 11AM-4PM. To support this initiative click here, or let your local Seminyak friends in need know they can get lunch for free at Sea Circus every day. We are also supporting Sea Circus with donations from the GIVE e-book. 
Project Nasi is a charity-based project by our amazing entrepreneur friends who have businesses in Bali to give back to the community that supports them. Through the sales of the GIVE e-book we have been able to provide over $1500 in donations to Project Nasi which helps provide meals to over 150 families. Through this gofundme page, you can support these guys and help them purchase rice, groceries and sanitary products from local suppliers which are then given to those most in need. If you know someone in need, then they can pre-order a food pack via this link. 
Located in Ubud, Tresna Bali Cooking School has begun an incredible donation-based project called FEED BALI. For just USD$25 or IDR 400,000 you can help purchase Care Packages for local families in need. With the money raised, they're sourcing all ingredients from local farmers markets and delivering them to the families with enough produce to feed each family for a full two weeks. This means the farmers and those in need are also supported through your donation. If you know people in the UBUD area needing assistance, send them this way. 
Our fave sunset spot, The Lawn Canggu is now providing free, nutritious lunch boxes to those in need every Friday between 12PM – 2PM. With strict social distancing, streamlined practices in place, you don't even need to get off your bike to receive a free lunch, how cool is that!
BALIAID is another organisation that you can support here these guys are making sure those less fortunate in the Denpasar areas are being fed during this tough time. You can support them here.
HOPE2FAM is an imitative started by our inspirational friends, who have been traveling to remote areas of the island and GIVING back to those in need. You can show your support to these guys here. We will be working closely with these guys to support them with helping hands, delivery vehicles and other services that we can provide.
Our fave island babes Pris & Eve from WELIKEBALI have just started selling cute face masks with all profits from these going to support the community organisation NBT Bali. The production of these face masks also help keep people in a job as well as provide donations to purchase food for those in need. You can purchase yours here.
If you've read through all of the above or even made your way to this page because you care about Bali, thank you. Your support is so appreciated. Alongside all of these amazing charities we are also playing our part with the GIVE back cookbook. At the start of covid lockdown we bunkered down with two of our amazing staff members and pulled together over 34 of our favourite Indonesian recipes to create this e-book. Since launching it online, with your support we have been able to provide donations that equate to over 10,000 meals for those in need!
Thank you, thank you, thank you!